Community Supported Services is proud to offer a Supported Employment program for indiviudals with mental illness.  Recently, the program completed its fidelity review.  This review, conducted by the Ohio Department of Mental Health and Addiction Services (OhioMHAS), helps the agency in its efforts provide high quality services.
Individualized Placement and Support (IPS) Supported Employment is an evidence-based practice that helps people with severe and persistent mental illness and/or co-occurring substance use disorders identify, acquire and maintain integrated competitive employment in their communities. IPS is assertive about helping people find the work they want as soon as they express a desire to become employed. IPS increases employment in integrated competitive jobs, the number of hours worked, and the amount of income earned in competitive jobs. 
To be recongized as a qualified provider of IPS, the organization must be a comprehensive community behavioral health providers certified through OhioMHAS for employment/vocational services.  Additionally, the organization must provide meaningful competitive integrated employment, have onsite multidisciplinary teams, participate in ongoing training, consultation, and technical assistance from OhioMHAS, and maintain fidelity to the model as defined by the IPS Learning Center. 
During the recent review, the Supported Employment team of Community Support Services earned an impressive 109 out of 125 points!  This demonstrates "very good" fidelity to the model which translates to more effective outcomes for the individuals served by the program.  The program staff are already discussing how they will improve for even better fidelity next time!  Congratulations to all!
To learn more about Supported Employment at Community Support Services, please contact us at 330-253-9675.  You may also visit http://www.cssbh.org/supported-employment.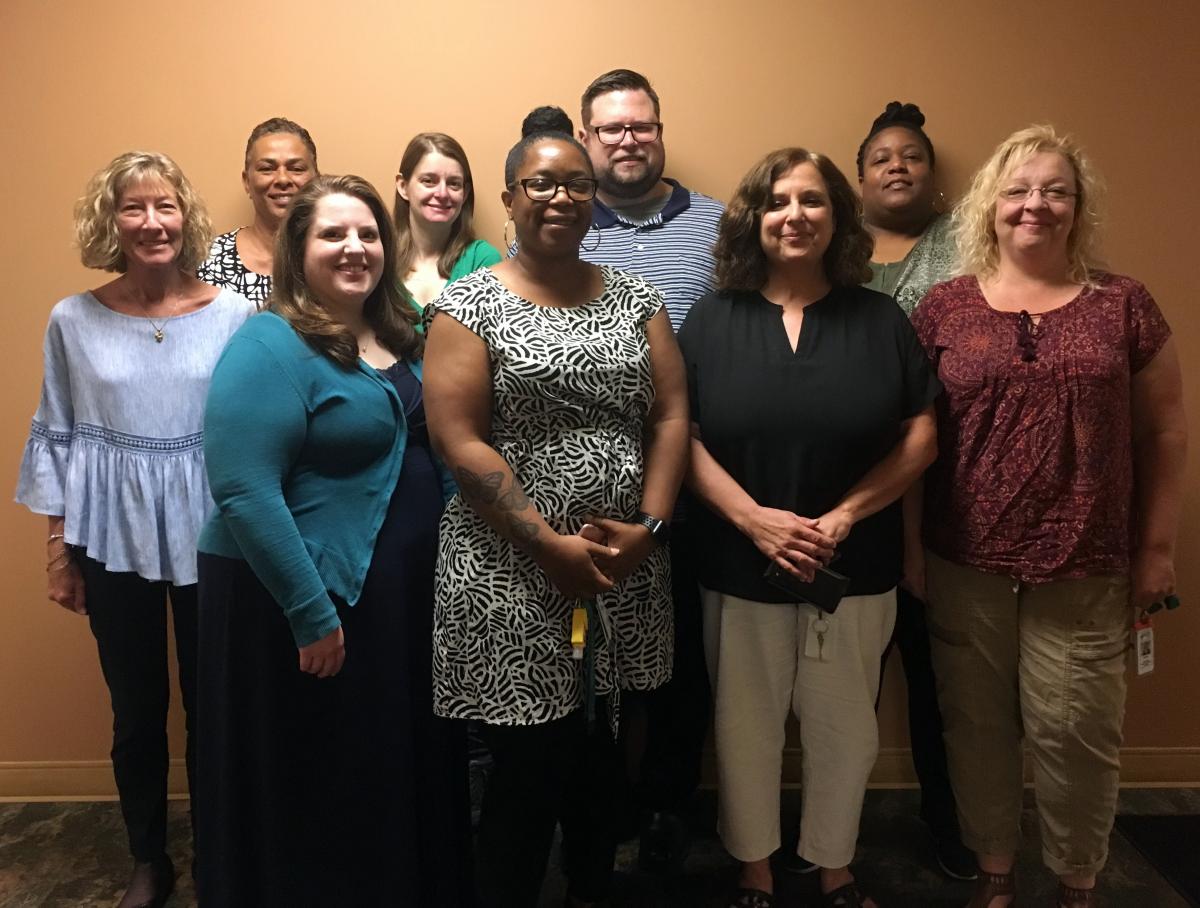 Front Row (L-R) Penny Moore, Amy Calabrese, Tasha Young, Susan Ritz, Michelle Mace
Back Row (L-R) JoAnna Hewett, Michell Montgomery, Joel Voorman, Alisa Harris
Not Pictured - Michele Nepsa